Merrick's Elms Road Development, London SW4 making good progress
London
Following commencement of construction works in 2018, Merrick's development at Elms Road, London SW4 is progressing well.
The scheme consists of 15 units offering a range of generously sized living experiences to buyers, including studio, 1-bed, 2-bed and 3-bed apartments in the Clapham/Abbeville Village conservation area. Each apartment has its own characteristics, with dual-aspect duplex configuration a particular feature in most of the apartments.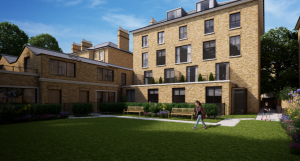 Merrick's contractor CMT (CMT Construction) will complete the concrete frame and superstructure in February, and the blockwork and brickwork for the unique coachhouse to the rear of the main building will also commence.
Merrick has appointed Eerospace (Eerospace) as its interior designer and work is underway to finalise the combined classic/contempary design of the scheme, with materials and finishes selected to a very high level of quality.
Douglas and Gordon (Douglas and Gordon Estate Agents) has been appointed  as sales agent for the scheme and the show apartment is planned to be available in May/June 2019.
For further information please contact:
Merrick Group
Mark Norris: 0044(0) 7711 732696
Mark Johnstone: 0044 (0)7958 192524
Email: info@merrickrealestate.co.uk
Web: www.merrickgroup.co.uk